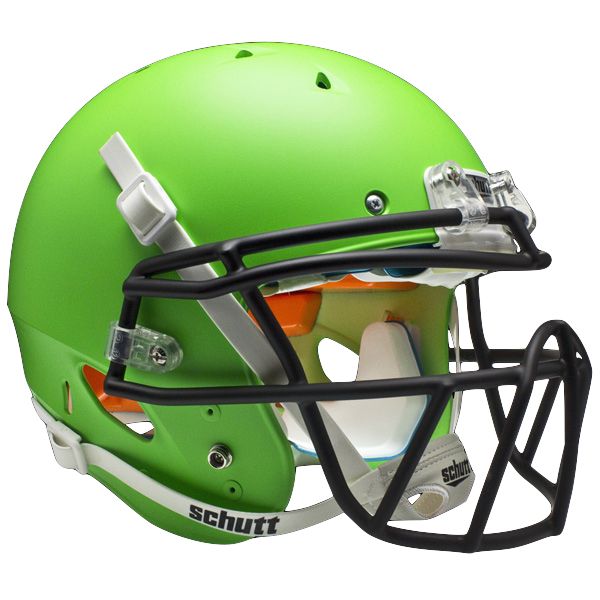 Schutt Youth DNA RECRUIT HYBRID Kinder/Jugend Footballhelm (empfohlen bis ca. 14 Jahre)...
mehr
Produktinformationen "Schutt Youth DNA RECRUIT HYBRID"
Schutt Youth DNA RECRUIT HYBRID
Kinder/Jugend Footballhelm (empfohlen bis ca. 14 Jahre)
Leichter, bequemer Helm für Mini/Schüler.

Auf den Schutt YOUTH DNA RECRUIT HYBRID passen ausschließlich Youth DNA Facemasks.

PREIS INKLUSIVE WANGENPOLSTER UND KINNRIEMEN, ABER OHNE GESICHTSGITTER.
DAS GESICHTSGITTER MUSS SEPARAT BESTELLT WERDEN.
Produktbild dient der Veranschaulichung. Abweichungen sind möglich.


Helmgröße

Kopfumfang in cm (gerundet)

2X-Small

48

bis

49

X-Small

51

bis

52

Small

53

bis

54

Medium

55

bis

56

Large

57

bis

58

X-Large

58

bis

60
Another dynamic helmet designed for the youth market, the Recruit Hybrid®from Schutt Sports is an affordable alternative for the youth through junior high football player. The Recruit Hybrid® showcases the sleek, aerodynamic shell of the DNA™, which the players love, but also features the advanced level of protection parents desire. That same spherical shape helps turn aside some of the biggest hits, changing the helmet-to-helmet collisions into more glancing blows.
See those unique dart-shaped holes on the helmet crown? Yea, they look cool but they're also a functional ventilation system, circulating air to keep you cool.
The Recruit Hybrid® is an offspring of the DNA™ Pro™ helmet, which has been designed to not only meet NOCSAE standards, but also the tougher standards being championed by Biokinetics and Associates Ltd. Their standards are based on recent research conducted on behalf of the NFL. TheDNA™ Pro™ was a finalist for the 2004 Sports Product of the Year because it changed the way everyone thinks about football helmets.
That's the kind of heritage the Recruit Hybrid® brings to the field, which means it's the perfect choice for any coach or parent looking for an affordable, premium helmet.
Meets NOCSAE and CE Standards
Multi-Layer Interior Padding
Interior padding features multiple layers consisting of impact-absorbing vinyl nitrile foam. Treated with an anti-microbial agent to resist the growth of mold, mildew, fungus and other bacteria.
Two-Liner System
The liner in the Recruit Hybrid™ is encased in foam for extra comfort while ensuring a precise, custom fit for each individual player, along with unmatched comfort.
Maximum Ventilation
Iconic, dart-shaped vent holes maximize air flow.
WARNING: Keep your head up. Do not butt, ram, spear, or strike an opponent with any part of this helmet or faceguard. This is a violation of football rules and may cause you to suffer severe brain or neck injury, including paralysis or death and possible injury to your opponent. Contact in football may result in Concussion/Brain injury which no helmet can prevent. Symptoms include: loss of consciousness or memory, dizziness, headache, nausea, or confusion. If you have symptoms, immediately stop and report them to your coach, trainer, and parents. Do not return to a game or contact until all symptoms are gone and you receive medical clearance. Ignoring this warning may lead to another and more serious or fatal brain injury. NO HELMET SYSTEM CAN PROTECT YOU FROM SERIOUS BRAIN AND/OR NECK INJURIES INCLUDING PARALYSIS OR DEATH. TO AVOID THESE RISKS, DO NOT ENGAGE IN THE SPORT OF FOOTBALL.
Fit Guide
Schutt® Youth DNA Recruit Helmet Sizing
Size Head Size Head Circumference
2X-Small 6-6 1/4 19-19 1/4"
X-Small 6 3/8-6 1/2 20-20 1/2"
Small 6 5/8-6 3/4 20 3/4-21 1/4"
Medium 6 7/8-7 21 1/2-22"
Large 7 1/8-7 1/4 22 1/4-22 3/4"
X-Large 7 3/8-7 1/2 23-23 1/2"
Weiterführende Links zu "Schutt Youth DNA RECRUIT HYBRID"
Verfügbare Downloads:
Bewertungen lesen, schreiben und diskutieren...
mehr
Kundenbewertungen für "Schutt Youth DNA RECRUIT HYBRID"
Bewertung schreiben
Bewertungen werden nach Überprüfung freigeschaltet.